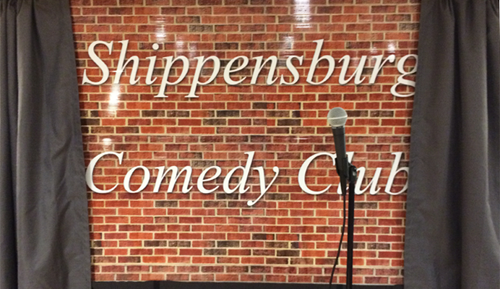 Welcome to the Shippensburg Comedy Club offering shows with nationally touring headliners. We hand pick only the best comedians who are hilarious. Shows are held at the beautiful and luxurious Courtyard by Marriott with a full bar and drink specials. We are located at 500 Newburg Rd, Shippensburg, PA 17257 right next to the Shippensburg University Conference Center.




I go to comedy clubs all the time, but I've never laughed so hard in my entire life until this show. Earl David Reed is the bomb! Jesse Blanco was also hilarious! Thanks, Seth, for bringing some life into Shippensburg!

Reply

So grateful for Seth, I think Shippensburg really needed this. I laughed so hard it hurts. What a great time, every time we go.

Reply

Just seen Earl David Reed there. This place is what shippensburg needs. I highly recomend taking in a show there.

Reply

My wife and I seen Jesse Blanco and Earl David Reed this evening great show we will return to see more shows

Reply

It was really great and a lot of laughs! It's nice having a place like this in town!

Reply

Had a fabulous time. Enjoyed the meal first..great food! Recommend to all. Laughter is truly the best medicine! Loved the interaction with the crowd! Looking forward to another show!!

Reply

Great opening show, loved Brad. I would definitely recommend this place! Dinner before was awesome as well. I will return!!

Reply

Had a great time on Thursday night. I will definitely be attending another show in the future. FCDW

Reply

Really enjoyed the show again tonight! Donna was hilarious! Laughter is great medicine!

Reply

Omg?. Hilarious. Thanks for an amazing night of laughs!!

Reply

HEADLINING SATURDAY, SEPTEMBER 30, 2023 @ 8:00PM
PAY WHAT YOU WANT COMEDY SHOW. Get Tickets.
18+ Show
We want everyone to see how great the Shippensburg Comedy Club is and how every show will be hilarious. We also realize that not everyone wants to invest money in a show if they have never been to the venue. Now you can see a show, and you get to choose the price you pay. For the show on September 30th, prices start at just $1 plus a transaction fee, and you can choose to pay whatever you wish. Just select "Pay what you want" when selecting seats. Then choose the price you want to pay.
Note* with the "pay what you want" option, you cannot select the section your group will be seated in. If you want to choose a specific section (i.e., front row VIP), regular pricing applies. No matter what option you choose, everyone in your group will be seated together.

Mark Matusof is a veteran comedian who has been seen and heard on NBC's The Night Shift, CNBC's America's Talking Network, XM Satellite Radio and the nationally syndicated Bob and Tom radio show heard by over 5 million listeners daily. He was also the opening act for a David Copperfield special that aired on CBS.

Mark's comedy is clever, thoughtful, and most importantly, hilarious! His material ranges from his immigrant family to the aggravations of modern life, current events and the fragility of the male ego.

Mark has been described in the press as: "funny without being vulgar or nasty" and "going the smarter, hipper direction to the joke."

Get Tickets.