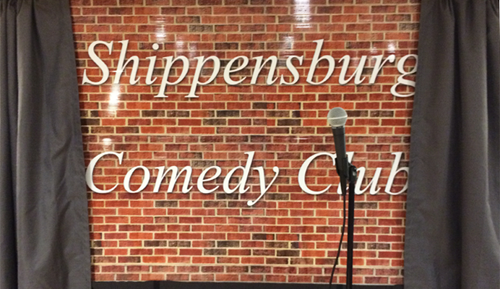 Welcome to the Shippensburg Comedy Club offering shows with nationally touring headliners. We hand pick only the best comedians who are hilarious. Shows are held at the beautiful and luxurious Courtyard by Marriott with a full bar and drink specials. We are located at 500 Newburg Rd, Shippensburg, PA 17257 right next to the Shippensburg University Conference Center.




I go to comedy clubs all the time, but I've never laughed so hard in my entire life until this show. Earl David Reed is the bomb! Jesse Blanco was also hilarious! Thanks, Seth, for bringing some life into Shippensburg!

Reply

So grateful for Seth, I think Shippensburg really needed this. I laughed so hard it hurts. What a great time, every time we go.

Reply

Just seen Earl David Reed there. This place is what shippensburg needs. I highly recomend taking in a show there.

Reply

My wife and I seen Jesse Blanco and Earl David Reed this evening great show we will return to see more shows

Reply

It was really great and a lot of laughs! It's nice having a place like this in town!

Reply

Had a fabulous time. Enjoyed the meal first..great food! Recommend to all. Laughter is truly the best medicine! Loved the interaction with the crowd! Looking forward to another show!!

Reply

Great opening show, loved Brad. I would definitely recommend this place! Dinner before was awesome as well. I will return!!

Reply

Had a great time on Thursday night. I will definitely be attending another show in the future. FCDW

Reply

Really enjoyed the show again tonight! Donna was hilarious! Laughter is great medicine!

Reply

Omg?. Hilarious. Thanks for an amazing night of laughs!!

Reply

HEADLINING SATURDAY, OCTOBER 30, 2021 @ 6:30PM AND 8:30PM

General admission $18 + $2 convenience fee in advance ($30 at the door), purchase for 6:30PM or 8:30PM. (18+ Show)

Raymond has developed a cult like following selling out small theatre's, firehalls, comedy clubs and fundraising events. The First and Only Amish Stand-Up Comedian in the world. Raymond is a High-Energy Ranting-Storyteller!

Raymond's TV credits include Comedy Central, America's Got Talent, MTV's 7-Up and out, The Film 'For Richer or Poorer' and part of the workshop production of Sony Entertainments recreation of The Gong Show Live. He's also been on Opie and Anthony on Sirius Satellite Radio, the Miserable Men Show on Howard 101 and is a regular guest on the WZZO Morning show with the Bearman and Keith - 95.1FM in the Lehigh Valley.

If you haven't seen his show before, do not expect an hour of farming jokes. Raymond's rants on technology have become legendary. From facebook to shoveling snow, Netflix, iPhones, school closings, pumping our own gas, pet sitting for your friends, living with vegetarians, football fanatics, politics and more. You may also get some good old-fashioned Amish rants on the Horse and Buggy, Rumspringa, the Amish Mafia and Breaking Amish! This show is rated R.

Purchase through PayPal for 6:30PM or 8:30PM show.






HEADLINING FRIDAY, DECEMBER 17, 2021 @ 8PM

General admission $18 + $2 convenience fee in advance ($30 at the door), Purchase through PayPal (18+ Show)

Shawn Banks is a stand-up comedian who was a semifinalist in 2009 on NBC's America's Got Talent. He was also a finalist in Comedy Central's South Beach Comedy Festival. Shawn is a veteran comedian Known for witty observations and dead-on impersonations who has performed with many well known comics such as Sinbad, Earthquake, Bill Bellamy, and more.

Shawn is also known for his acting career on the Big Screen. He has been seen in movies such as Never Back Down, and shows such as Celebrity Ghost Stories and Celebrity Crime Stories where he portrayed Notorious BIG.

Purchase through PayPal.













Home :: Buy Tickets :: Newsletter :: Partners :: Contact Us :: Venue